✨ What's New: Kayros Wallet launches globally!
Check it out
✨
The Red Village
4.85
Connect to like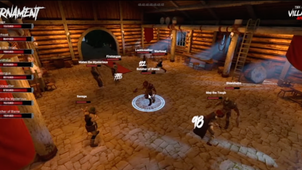 Description
The Red Village is a dark-fantasy play-and-earn game where The Blood Queen calls the bravest champions to fight and battle each other to see who is left standing at the end. Collect, learn, breed, fight, win.
Taking inspiration from classic titles such as Diablo, The Witcher, and Runescape (a particular favourite), The Red Village has both multiplayer fighting Tournaments and a planned open world RPG expansion into the Darklands beyond the village walls.
Blockchain
Platforms
Website
Start playing
The Red Village
Become an early adopter of the revolutionary GameFi platform and get exclusive rewards and perks from Kayros
Get Started
Play now
You will also like
Brave Frontier Heroes
Fighting, Turn-based, Auto-Battler, RPG
3.25
Outer Ring
Action, MMO, MMORPG, RPG, Sci-Fi
Gunship Battle: Crypto Conflict
Action, PVP, Simulation, Strategy
3.28